Airbrush Clothing Artists for Events
We flat out love airbrushing clothing. When you hire Airbrush Boston, you hire great people.  Our goal is to provide an amazing experience with the best artwork on the market. Guests will be able to choose anything they want on their tee shirt. Airbrush Tee Shirts last for years and years. Our clothing comes with information card to preserve the artwork. We have fun just like the guests so if you are looking for an authentic time, look no further. We would love to talk about our experiences and references.
Airbrush Clothing is what started this business 10 years ago. Our Founder Roscoe Lamontagne airbrushed his first shirt when he was 17 year old, and he has been going since. He spent college airbrushing on a pier in South Florida. When he moved back to Boston he starting working for some local companies. Airbrush Boston was started with aspirations to provide the literal best experience for clients and their families and guests. As well as the coolest Airbrush Clothing from the state of Massachusetts.
Airbrush Clothing events can be one hour all the way to 6 hours. Sessions that are one hour will cost $200. Events that are 3 hours will cost $175 an hour. Each additional hour past 3 hours will cost $125. Travel is usually waived however since we travel all over the United States charges may apply. We always recommend a dedicated assistant which costs $25 an hour.
Garments and clothing are always additional costs. We can help you with getting the best price on tee shirts with our wholesale accounts. We can also airbrush on hats, pants. pillows, bean bags, and even cars.
We always recommend the assistant add on. Our assistants are basically the artists boss. They keep track of all the designs, and make sure the artist is on task. Artists usually complete each piece within 5 minutes for busy events. The assistant works hands on with every guest ensuring they can get their design right. The assistant also organizes all the orders and gets the shirts ready for the artist so there are no distractions for the artist. Our Artists encourage guests to hang out with the artists and watch as the clothing is made, while the assistant makes sure the work station remains organized throughout the event.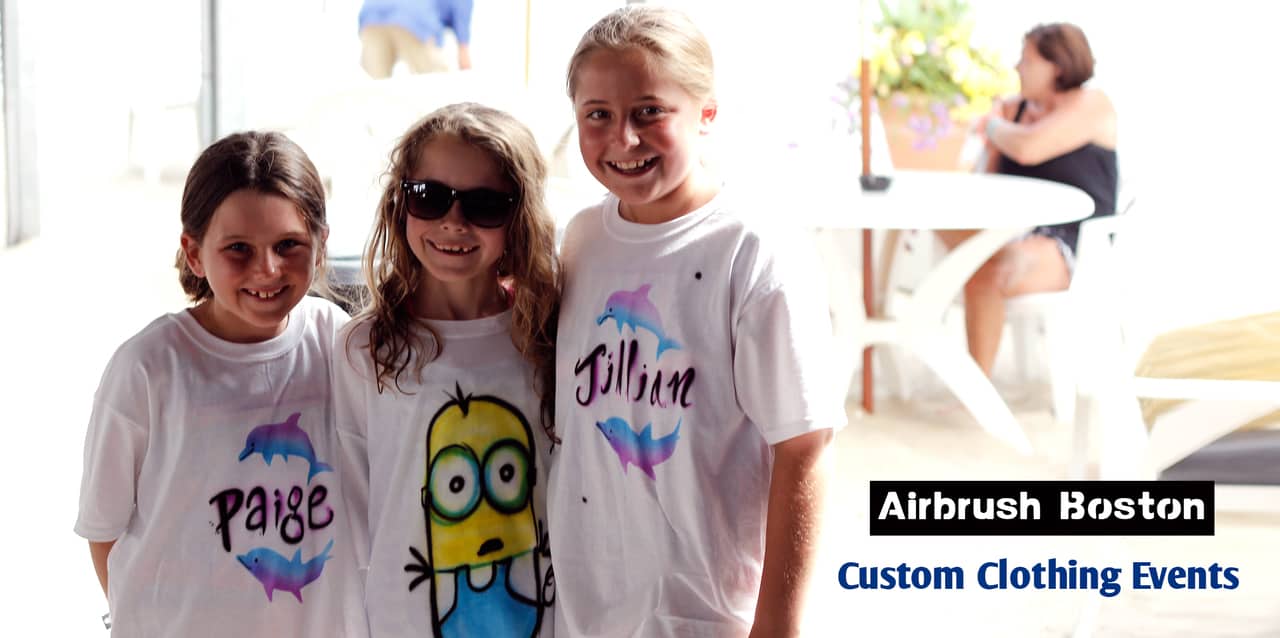 People Oriented Artists
When you hire us, you hire people who focus on giving you the best experience in the industry. We suggest to hire an artist and an assistant, because we aim to run the smoothest airbrush events in America.
Throw the Coolest Event
Whether its for a teenage party or an adult party, we think the coolest service is airbrushed clothing. We get called to go to California, and New York City, while we are based in Boston. People all around America have contacted us regarding airbrush events.
Customize
Just like we customize every shirt, we can customize every event. We can help you get shirts printed for the best price, and airbrush them at the event. Or we can even customize props for your party. If you have any questions please just ask.
Price Per Hour
Based on a 3 hour event
We have a limited number of artists, and we can only work a few events a night. Time slots also fill up fast. The math: Generally an artist can complete a shirt every 3 minutes at an event accompanied by an assistant. That is is 20 shirts and hour roughly 8.75 per item.
contact us now
Want to See Other Ideas for your Event?