Painting Professionals at your Event
As the lead artist at Airbrush Boston I am happy to share my gift of painting with the world. I have painted since a kid, and I have made a living off of my artwork since I was 17 years old. I have taught over 200 painting events with clients from Harvard Business School, D'assault Systems, New England Venture Capitol, North Eastern University, Sam Adams Brewery, Liberty Mutual, Emerson College, Lancome USA, and even the Federal Reserve Boston.
Here you can book an event with us right now.
Questions about getting an Artist?
Live Collaborative Art
This service is a performance based art, that can be done with a single artist or even with an entire group. And as you can see in these photo's we can paint murals with kids, or big paintings with College kids. There is literally no limit you can see a picture of a Gin Barrel that is on display at Gran Ten distillery in South Boston. We painted that barrel in 1.5 hours during a liquor tasting. Think about a way 0f painting and we can do it!  You can even see a graffiti Room which was done in one day at Its2cool. Where later on at parties we would allow guests to tag up the wall. 
Painting Parties
These shots are from more traditional paint party's or some call them Paint Night's. Personally I don't teach Paint Nights or work for any other painting companies besides the Urban Art Bar. I recommend you choose carefully when you are choosing your next artist for an event. Every one teaches different but I have had hundreds of students tell me there feedback from other classes. If you book with me here, I can guarantee your experience because I will be teaching the class. Please go through these pictures. You can see pictures from some of my favorite painting classes throughout the years. One thing that they have in common is that every c lass was fun! I look forward to the next one. 
Teaching at Harvard Business School
Teaching the Staff at the Omni Parker House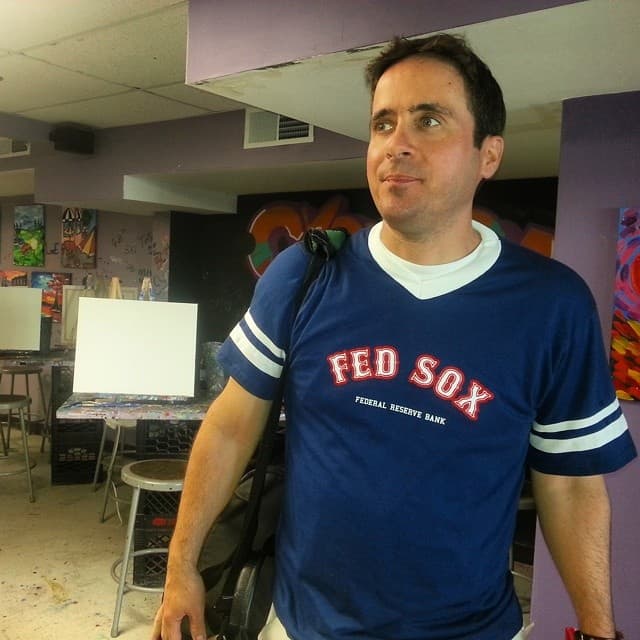 Federal Reserve Painting
 Sometimes I like to give away my paintings. 
    This was a nice collaboration between 2 of my students.
 Painting from Lancome USA class.
Painting with the Sam Adams Brewery
  Painting set up for 100 people at North Eastern University.
 x 
 Painting with one of my favorite companies D'assault Systems. This was a great job because I was able to teach people from all over the world some of the students were from Paris and some were from Tokyo.